New Products & Services Available
VXN Dance & Sip workout with KRIS at the Motiv8nu Studio
VXN Dance & Sip workout with KRIS at the Motiv8nu Studio

Enjoy

 this awesome 90 min class! Dance & sip!
A little Vino may help you find your groove!
Or have a little cocktail social after at the studio
Grab your bestie and sign up now!


Sparkling waters also available!!! xoxo
HERE'S the Deets on VIXEN .... 
I'VE NEVER DONE VIXEN BEFORE. WHAT IS IT ALL ABOUT ?
The Vixen Workout is a dance fitness format that uses commercial choreography, killer music remixes, and stage lighting so you can experience yourself as a performer. (Basically, you get to pretend you're opening for the VMA's, and perform the moves you see by your favorite artists.) Our mission is to give a new edge to pop culture by merging dance, fashion, music, and fitness. Our classes create an environment where you can experience an emotional release, mind-body connection, and a sense of community while burning anywhere between 400 to over 1,000 calories! What we're trying to say is, you can absolutely enjoy all the physical benefits of an effective workout while having an insane amount of fun and feeling like the most powerful version of yourself.
BUT I HAVE TWO LEFT FEET…  IS VIXEN FOR ME?
Beyonce did not wake up Flawless....JK maybe she did but Vixen is for anyone who puts their mind to it. Vixen Workout® is perfectly suited for all levels. It takes about 3 classes to start feeling comfortable with the moves. Our age range varies from 18 all the way to 60. As long as you have a love to move, you will fit right in.
WHAT SHOULD I WEAR/BRING TO CLASS?
We encourage you to wear your hair down, your favorite lipstick, and an outfit that makes you feel like you're rehearsing for your own concert.  Wait...did they just say hair down and makeup to workout?!  YUP!  We want you to get into character, and by "character" we mean tapping into your inner Rihanna, Beyonce, or J-Lo. For your first class we recommend black leggings and a comfortable tank or muscle tee.  Feel free to wrap a flannel around your waist for extra movement on those Thigh Shakes.  For footwear, we recommend wearing athletic sneakers but if you're feeling a little bold try some athletic sneaker wedges. Lastly, a towel and water bottle is always a great idea to bring with. 
WHAT IF I'M PREGNANT?
Yes with a doctor's approval. Many of our Vixens, do Vixen Workout while expecting. We also believe as women, labor and becoming a mom require a significant amount of power, endurance and energy. Therefore, by continuing to stay active, you can better prepare your mind and body for what's to come.
WHAT SHOULD I EXPECT ONCE I ARRIVE?
We encourage you to arrive at least 10 minutes early to make sure you don't miss anything. You'll be greeted by your instructor and a quick introduction to what Vixen is all about. Vixen Workout is targeted to an adult audience and some songs can be unedited cuts, so we do ask that participants are over 18 years of age. After class photos and selfies are encouraged… remember to hashtag #VIXENARMY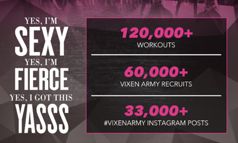 Live Fierce!
the hashtag #VIXENARMY to connect 
with our global army.
Follow us at @VixenWorkout and use

#VixenArmy     
Here are the BENEFITS!!


CONFIDENCE BOOST - Caution Vixen gives you all the feels and is so much more than just a workout
VIXEN is based on several factors - DANCE + FITNESS+COMMUNITY+WELLNESS OF BODY & MIND
LOVE ON THE BRAIN - Are you felling smarter after class? This is totally possible because Vixen demands the integration of both physical and cognitive skills.  There is also an added sense of community, plus the rare opportunity to disconnect and become completely engaged with your true self.
AT THE SAME DAYUM TIME - Vixen contains aerobic and anaerobic exercises as well as intense interval training hidden by fun choreography.  While rapping along to Rick Ross, you'll work multiple muscle groups which in turn will keep your body constantly challenged.
HIGH CALORIE BURN -Most Vixens love the experience so much they find weight loss is just a bonus, but you can burn anywhere from 400 to 500 calories during your initial class.  As you become more familiar with the movement and start executing the moves fully you can burn over 1,000 calories.